Product Description
This 300W solar Street Lights were manufactured to meet the highest expectations and are becoming the most widely used outdoor light source.
【WIRELESS INSTALLATION】The solar street lights No more complex wire needed, just simple screws installation needed.Solar Street Light science project can be installed in walls, poles and other locations with direct sunshine.Solar Street Light sensor suggest installation height is 10-16 ft.
【Sensor mode+remote control function】The remote control buttons include 2 hours, 4 hours, 6 hours constant light mode, constant light mode, off button and sensing mode. The sensing mode will automatically start at dusk and automatically turn off at sunrise. When a person is nearby, the brightness increases, and when the person leaved, the brightness decreases.
【Super bright】300W solar walkway lights is made of ABS plastic anti-ultraviolet material with 248 light beads, output lumens 3510ml, super bright 6000K, lighting range is 70-90 square meters.The solar conversion rate is 17%, and when fully charged, the continuous illumination time exceeds 48 hours.
【ALL-IN-ONE DESIGN】All in one solar powered street lights, the top of light is solar-powered, which can absorb solar energy and transfer it into electricity, Save your electricity bills.
【Battery & Charging & Application】Charging during the day, automatic lighting at night, continuous lighting for more than 6 hours, suitable for roads, parks, squares, schools, hospitals, country yard, property areas, gardens, villas, etc.

All in one solar street light Specifications:
Solar Panel:6V 20W monocrystalline silicon solar panel
lithium battery : 3.2V 20AH
Charging Time : 6-8Hrs
Working time:≥12Hrs
Rainy days it can last:2-3 days
Working Mode:Radar sensor+Time Control+Remote control
Power:300W
With Charging indicator
With Remote Control
Body size : 245*680*60mm
Material:ABS Anti UV
Body color:grey
CCT:7000K
Luminous:1000Lm
Beam angle:60*90°
LED type :2835 324P1S
IP: IP65
A.The size of the solar panel determines the amount of power generated, which is the charging speed. So the size is the most intuitive reference. (Refer to the size of the solar wafer on the board, some solar panels have large blank areas)
B.The capacity of battery can directly results the working time and the service life. It can be only referred to the parameters provided by the seller. It is recommended to buy from professional sellers.
Please refer to the watthours for battery capacity, such as 6 batteries, each battery is 3.2V 5Ah, the watthours is equal to 2pcs x 3.2v x 5ah =32 WH, the larger the capacity, the higher the load power and the longer the working time.
The lamp body should be made of metal as much as possible, and the heat dissipation effect is good. The appearance and function are selected as needed
C.Customers need to compare the parameters carefully, the information above is a few simple reference methods, it is recommended to find a professional seller to buy.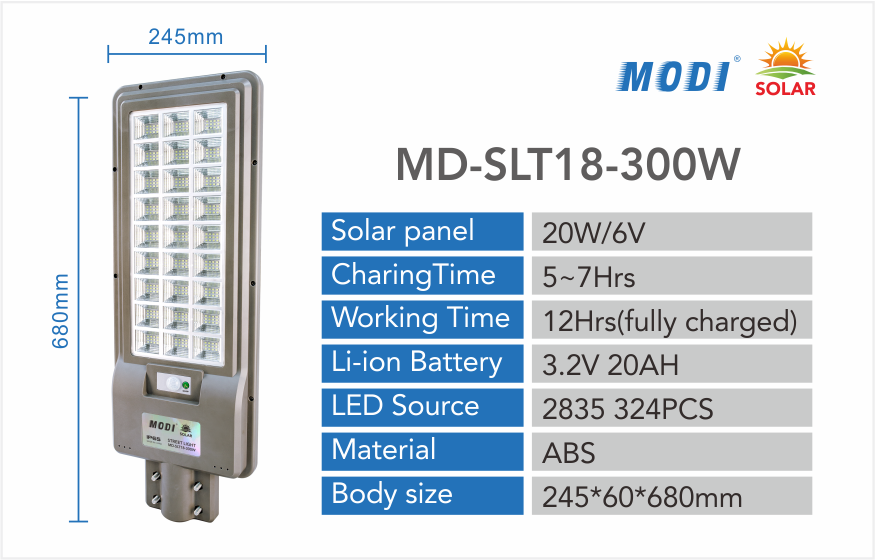 Solar powered street lights Features:
-Built-in photoelectric sensor, Auto-on/Off Dusk to Dawn
-Easy to install, waterproof and durable
-Energy saving and environmental protection
-Build-in Lithium iron phosphate battery, high-temperature resistance and long lifespan
-IP65 waterproof grade, aluminum alloy frame + tempered glass solar panel
-No more complex wire needed, just simple screws installation needed
-solar pannel can absorb solar energy and transfer it into electricity, Save your electricity bills
-Solar Street Light with light/motion automatic control sensor, specially designed for outdoor lighting IP65 waterproof with the efficient solar-powered technology.
--No electricity bill. All-in-one design and charged by solar, so the lighting kits are completely wireless and easy to be mounted.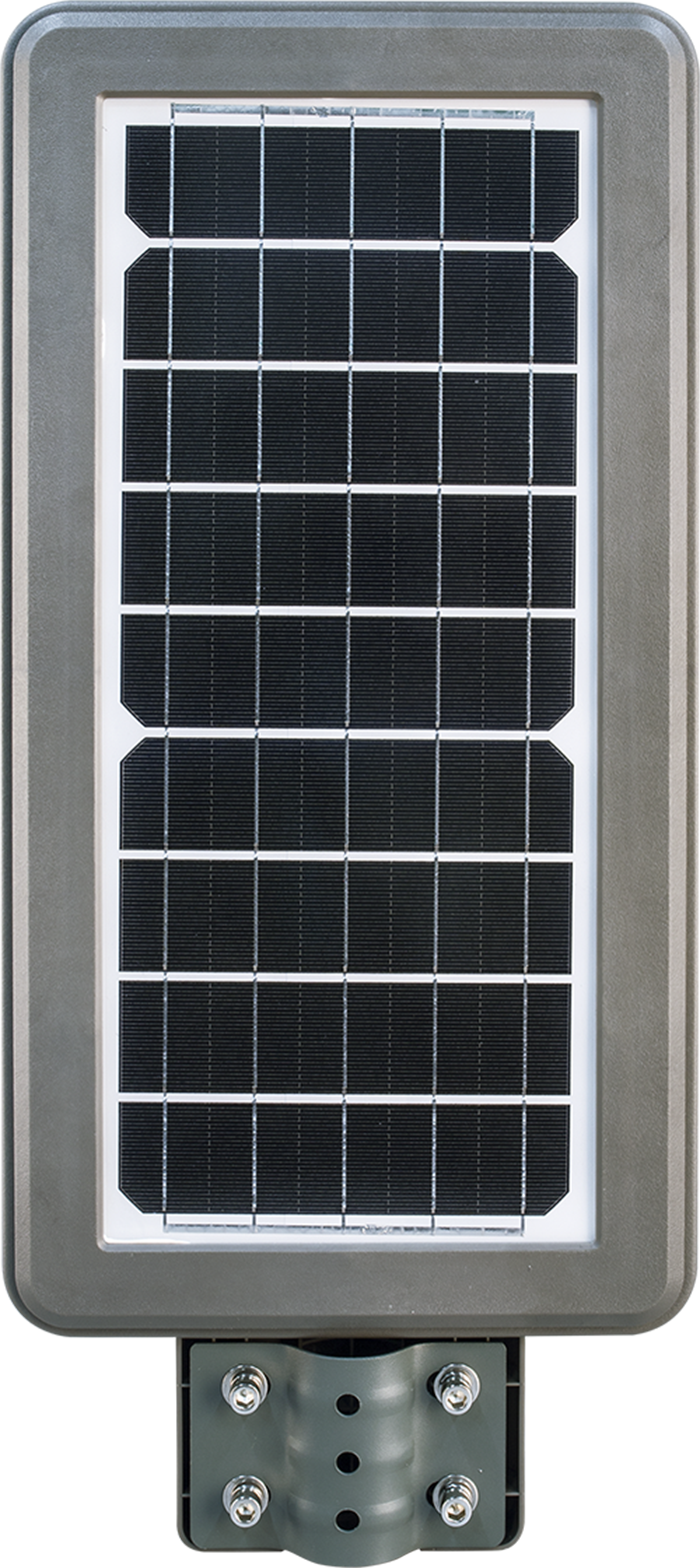 F Q A:
Q: Are you a manufacturer or a trading company?
A: We are a manufacturer.
Q: Where is your factory located? How can I visit there?
A: We are located in JiangHai district,JiangMen city, GuangDong province, China.
After you arrive in Guangzhou International Airport, just take the shuttle bus from the airport to JiangHai district directly.
Or take 37mins comfortable train from Guangzhou South Railway Station to JiangMen Station.
Q: Could I buy sample before place order?
A: Yes, you can buy sample, just feel free to contact us.
Q: How does your factory do regarding to quality control?
A: We have related record to monitor IQC and QC, all lamps will have 24-72hrs aging test before packing and delivery.
Q: Could you customized product for me?
A: Yes, we can customized product, please share us your detail requirement.
Q: Why the product warranty is 2 years? I need to change the lamp after 2 years?
A: The industrial standard warranty is 2 years.
And it doesn`t mean the lamp life span is 2 years, it mean we will provide related after sales service freely during this 2 years.
The lamps could still work well after 2 years normally.
Q: Why some supplier provide same product with lower price?
A: As long as the company you contact is a manufacturer, good quality product should have same price level with us.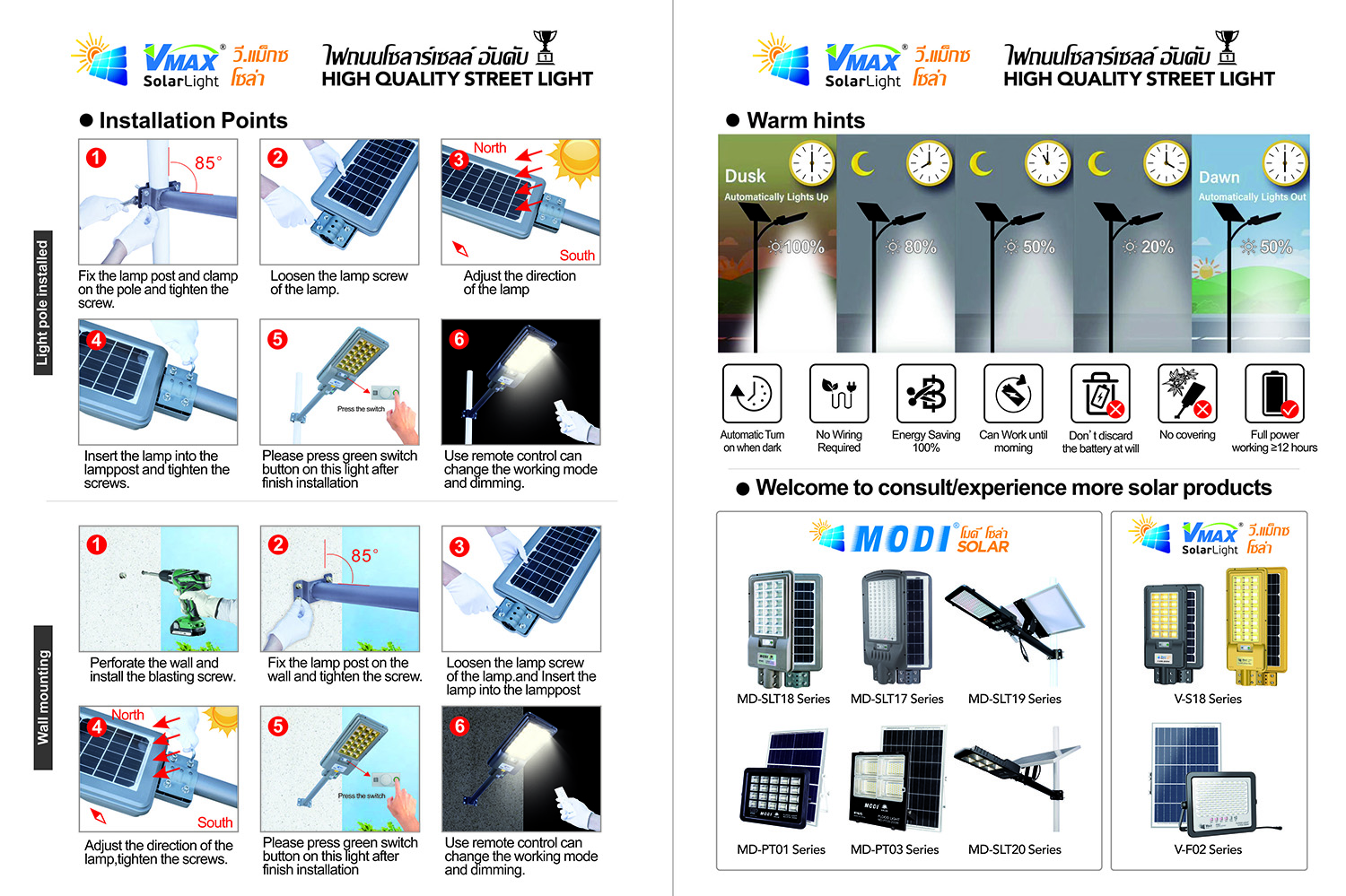 Special Reminder:
- In winter, the sun's ray are weak, resulting in insufficient charging, so the lighting time is shortened. This is normal phenomenon
- The size of the solar panel determines the amount of power generated, which is the charging speed. So the size is the most intuitive reference. (Refer to the size of the solar wafer on the board, some solar panels have large blank areas)
- The capacity of battery can directly results the working time and the service life. It can be only referred to the parameters provided by the seller. It is recommended to buy from professional sellers